Alys Lynett
21, Bristol
Breast reduction
Patient story #4
Alys
"I'm the happiest I've ever been and the surgery has really changed my outlook on life."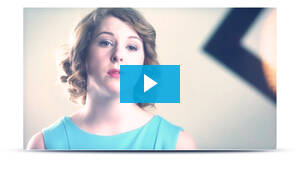 Watch Alys's video »
How we helped Alys

My 32JJ breasts looked completely out of proportion to my frame and I couldn't lead a normal life. I had no confidence and was very shy about meeting new people.

I couldn't even go shopping with my friends because no fashionable clothes would fit me. I had to buy much larger sizes than I needed just to fit my chest and get bras specially made, which at £50 each weren't cheap – but what was worse, were the back problems I was facing.

Too much discomfort and disappointment

When was 16 I went to my doctor to ask about a breast reduction on the NHS but was told I had to be 18. When I returned, my doctor thought I would be eligible and so referred me to a surgeon who carried out tests and X-rays to determine whether my breasts were affecting my back.

After waiting three years, I was told that I wasn't eligible after all, even though I do have back degeneration. You can't imagine the heartache and distress I experienced. I didn't know where to turn to next. I'm a student so couldn't afford to pay for it myself and my parents didn't have the money either.

The solution…

In the end, my dad managed to secure a loan to pay for my breast reduction with Transform. He just wanted me to have a normal, pain-free life. I had wanted the surgery for so long that I couldn't wait any longer, so I decided to go ahead with it.

From my first appointment I felt so much more positive, like there was light at the end of the tunnel and my Patient Co-ordinator gave me hope that my life could be different.

A new beginning

Now I'm so much more confident and don't feel held back anymore. I'm the happiest I've ever been and the surgery has really changed my outlook on life.* And funnily enough, people now look me in the eye when they're speaking to me! It makes a nice change.

*Cosmetic surgery results and benefits can vary and are different for each individual. As such, Transform cannot guarantee specific results.
Start your journey
More confident, more alive and more able to get the most from life. That's how Alys and our other patients tell us they now feel. Starting out on a journey can be hard, but if you've been inspired by our patients, get in touch.
Request a brochure
Book an appointment
Behind the scenes at our patient stories photoshoot
Click here to see how our campaign came to life.
Watch the video